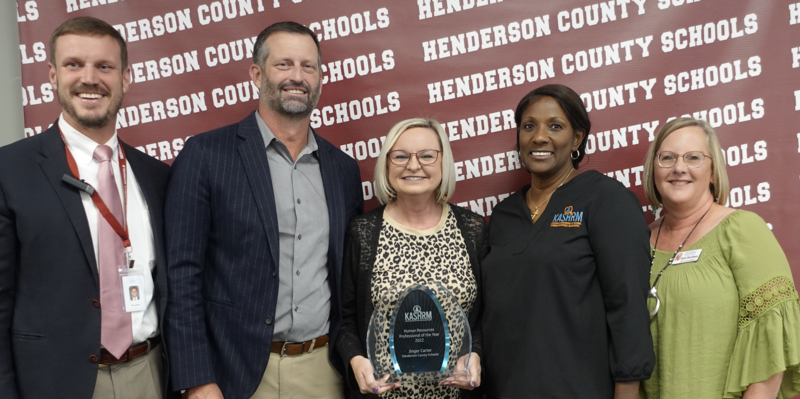 KASHRM (Kentucky Association of School Human Resource Managers) presented Henderson County Schools Human Resources Director Jinger Carter with the inaugural Human Resources Professional of the Year award last night at the October Henderson County Board of Education meeting.
Criteria for the award include:
Chooses to make a positive difference each day

Has a heart for people

Changes ordinary moments into memorable ones

Leads by example
KASHRM President Dr. Milli McIntosh, GRREC Green River Regional Educational Cooperative KASHRM representative Beth Beckham, and co-workers and family members were present last night as the award was presented. Carter was overwhelmed and surprised by the presentation, "I'm humbled and honored to be surprised with this award, and want to say that it would not be possible without the amazing ladies (Lisa Cox, Tonya Cox, Rhonda Garner, Hannah Smith, and Misty Snow) I work with in the HR Department. Thanks to Milli, Beth and KASHRM for this award. How special it was to celebrate this award with my amazing colleagues!"
Carter has been with Henderson County Schools for sixteen years and has been Director of the Human Resources department for the past eight years. The nomination noted that "Ms. Carter takes on each day determined to live out our district's mission of providing extraordinary educational opportunities for every student. She works hard to give every employee the best start and to make sure everyone is successful."
Superintendent Dr. Bob Lawson concurred and noted, "Ms. Carter has a strong commitment to the district and works to recruit and retain employees who will pursue excellence in all that they do. To have Ms. Carter as the first recipient of this state award makes me extremely proud of all the hard work she has accomplished throughout the years."
KASHRM will provide Carter with registration and travel to a national Human Resources training event provided by AASPA (American Association of School Personnel Administrators) later this year.
For more information, please contact Director of Public Information Megan Mortis at 270.831.5000 or email megan.mortis@henderson.kyschools.us.