Meals will be served daily at the following locations: Jefferson Elementary School, Bend Gate Elementary School, North Middle School, and Henderson County High School. Breakfast Served: 7:30 a.m. - 8:30 a.m. Lunch Served: 10:30 a.m. - 12:30 p.m.
Starting on June 5th, the Henderson County Board of Education office will be open Monday-Thursday 8:00 a.m. - 4:00 p.m. and Friday 8:00- noon. We are available to help with transcripts, online registration questions, employment information, and more. We will return to normal business hours on July 31st.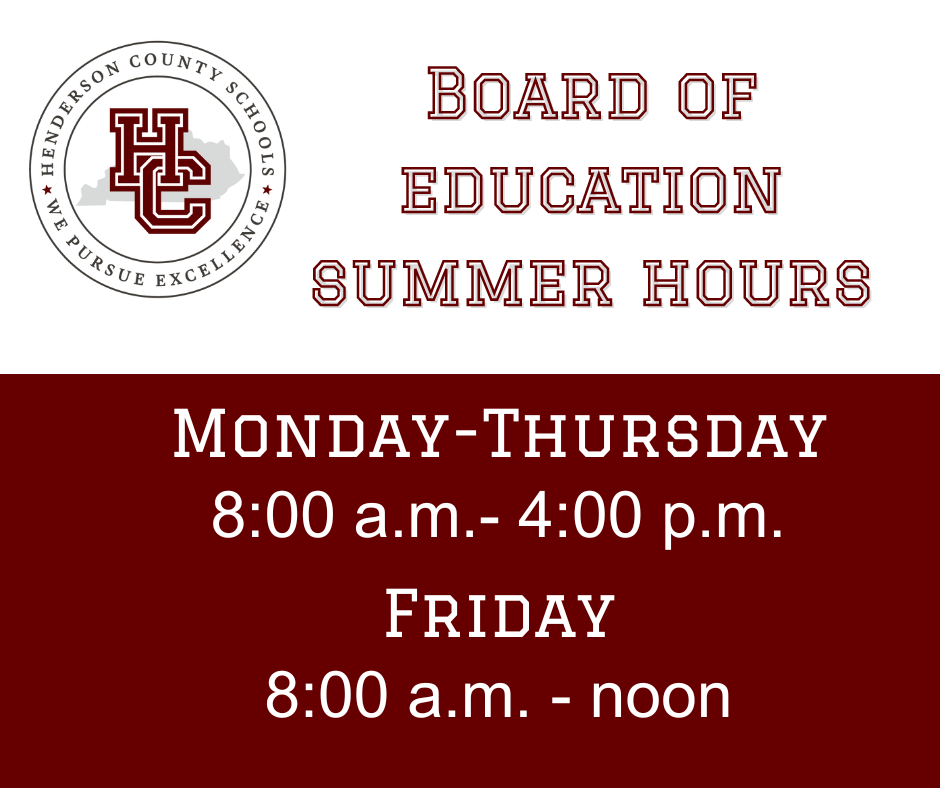 Reminder: Lane closures are expected to be in place on KY 351 near the US 41 overpass by early Thursday, June 1. One lane will be closed in each direction under and near the overpass. To accommodate the work, the 12-foot travel lanes will be reduced to 10-foot lanes with no shoulders.
https://bit.ly/3OUdzRw
Congratulations to the class of 2023! It was a great ceremony last night and we are proud of you!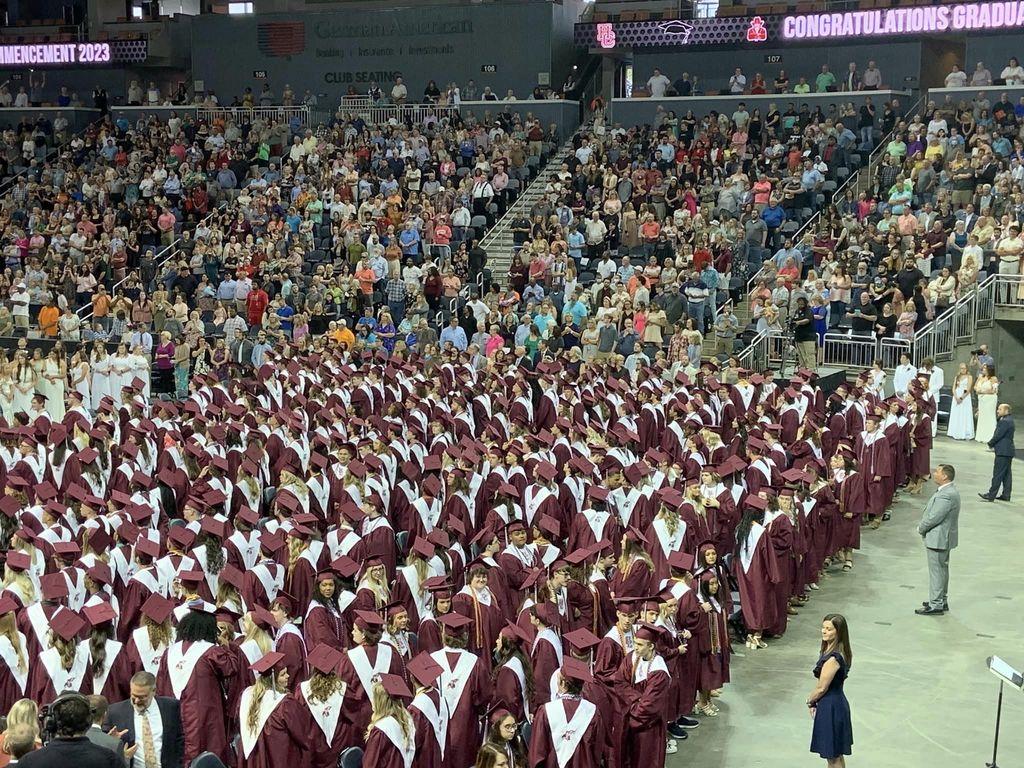 Hugs, tears, and smiles! Seniors walked the hallways of their former elementary and middle schools and handed out life-impact diplomas. They ended with a final walk around the high school led by the high school band. We are so glad we have this wonderful tradition in place.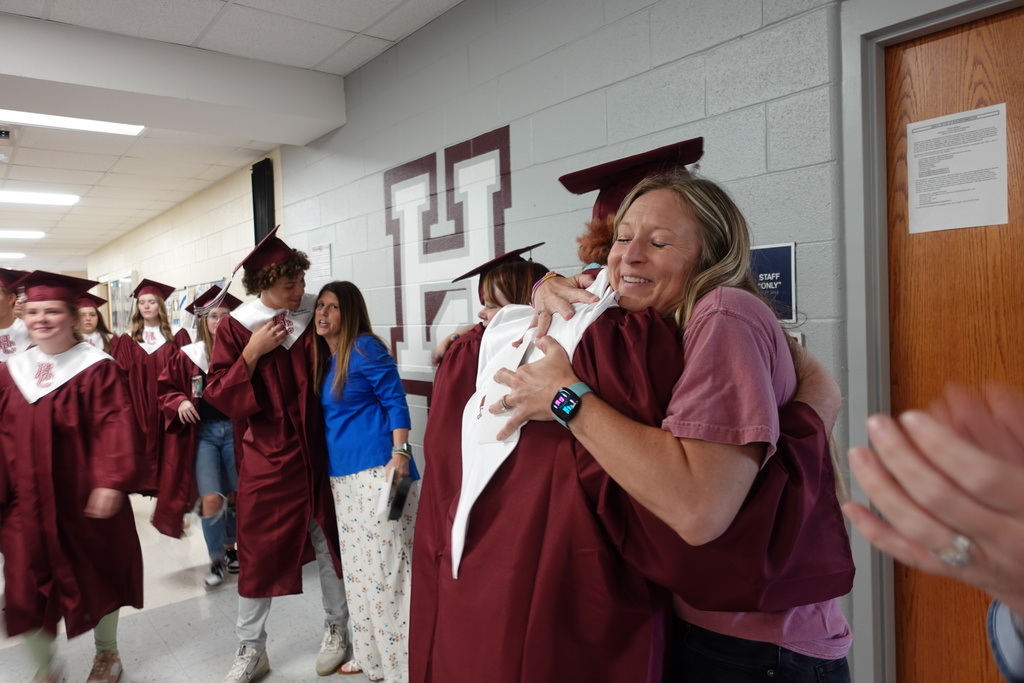 We are so excited to celebrate that we were voted Best Place to Work again this year!
Henderson County High School Class of 2023 Graduation Parade Wednesday, May 24, 2023, 6 PM Parade Details: Seniors don't drive themselves. Enter through Atkinson Park from Elm Street Line up is in the Deaconess Henderson Hospital parking lot. The parade will travel down Main Street - turn right on 3rd Street - turn left on Water Street The parade will end at Washington Street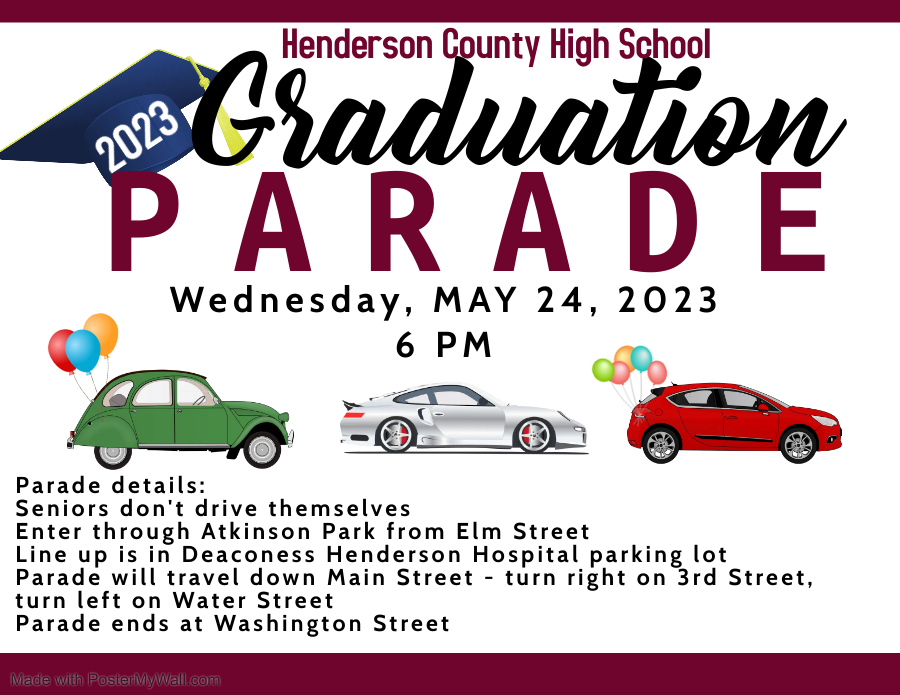 Katie Kirkwood has been named the new Principal of Bend Gate Elementary School. #OnceaColonelAlwaysaColonel #ChooseHenderson
A Summer Meal Kickoff picnic will be hosted by Henderson County Schools Child Nutrition Department on Tuesday, May 30th at the North Middle School football field from 10:30 a.m.-12:30 p.m. The Summer Meal program will officially begin on May 31st and will run through July 28th with a closure during the week of July 4th.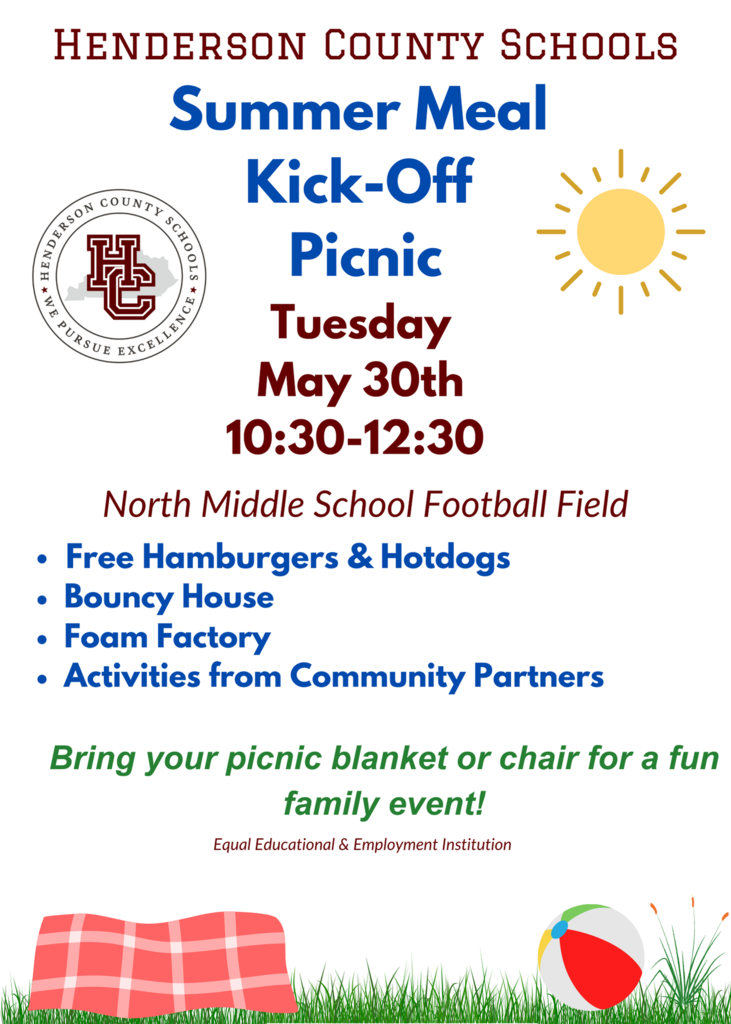 Several of our schools are near the finish line with KSA testing. Keep up the great work! Awesome job! #WePursueExcellence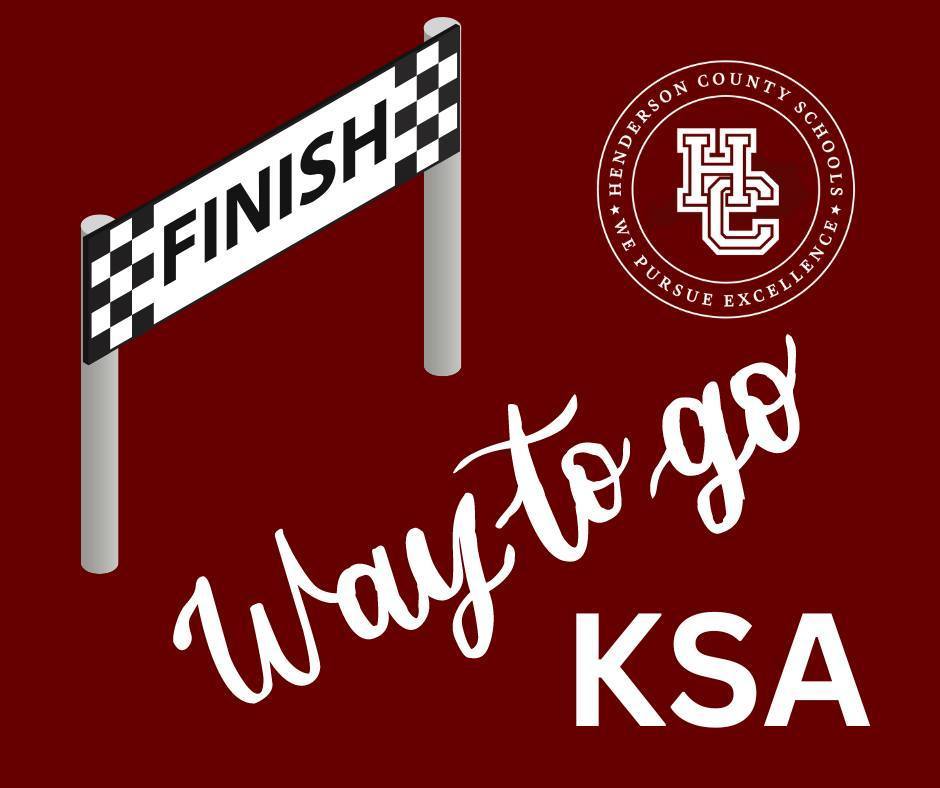 North Middle School students volunteered at Central Park to help place memorial day crosses on this beautiful morning.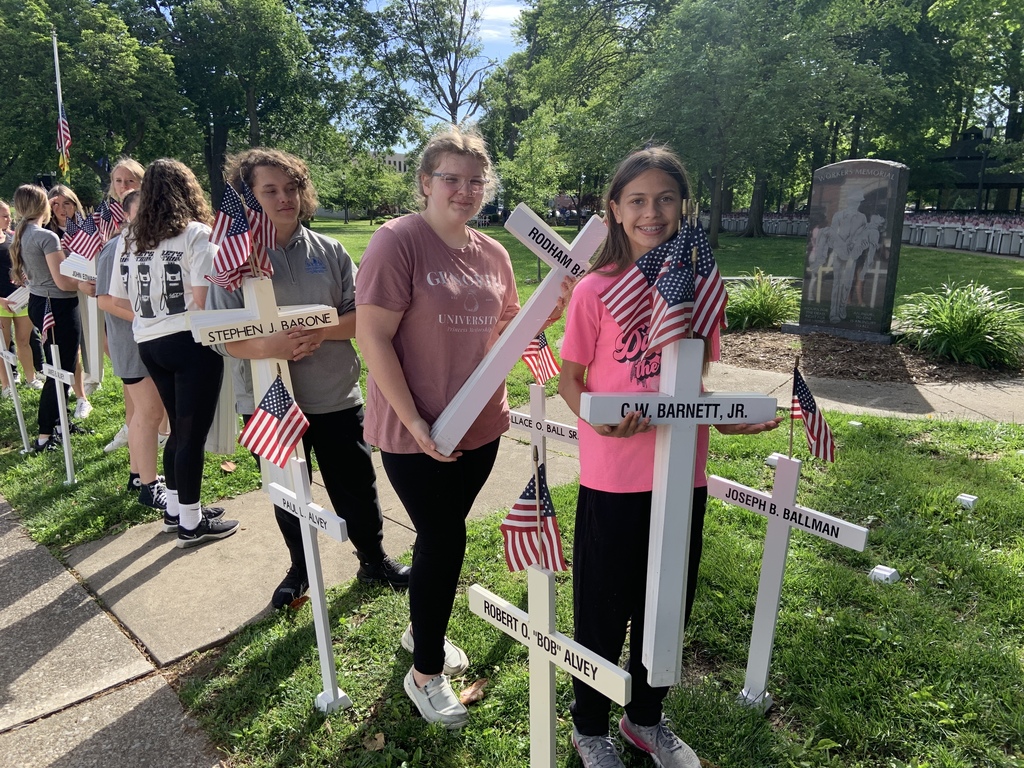 Happy National School Nurse Day! We celebrate and acknowledge the accomplishments of school nurses and all that they do help our students stay healthy, in school, and ready to learn.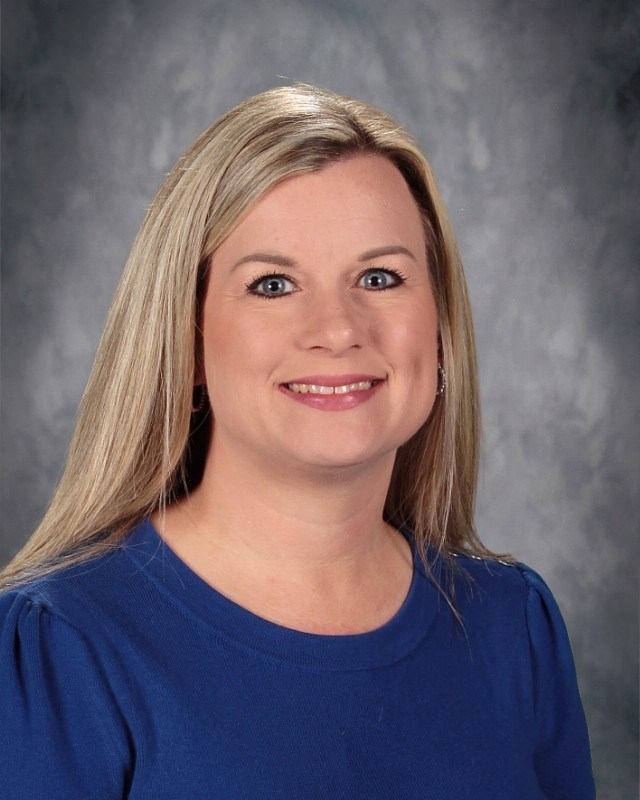 We are kicking off the first day of May with HCS Staff Appreciation Week! Today is Notes of Appreciation Day! Write a note to show much you appreciate our HCS staff.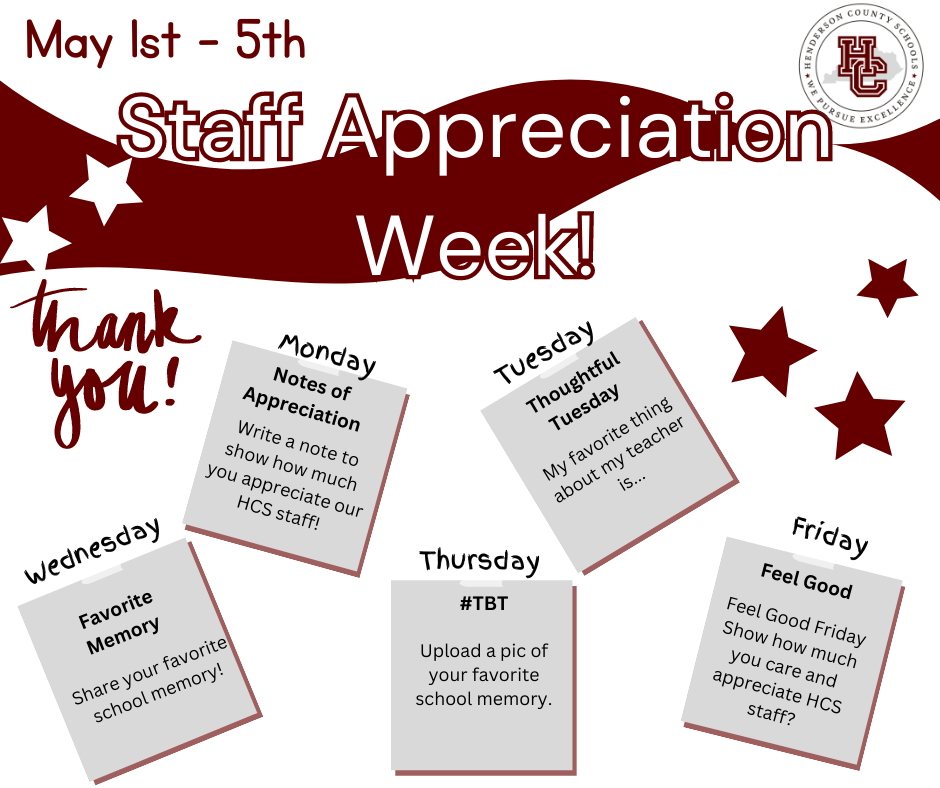 May 1st is celebrated as National School Principal Day. We are thankful for all of our principals and the work they do each day for our students, staff, and community.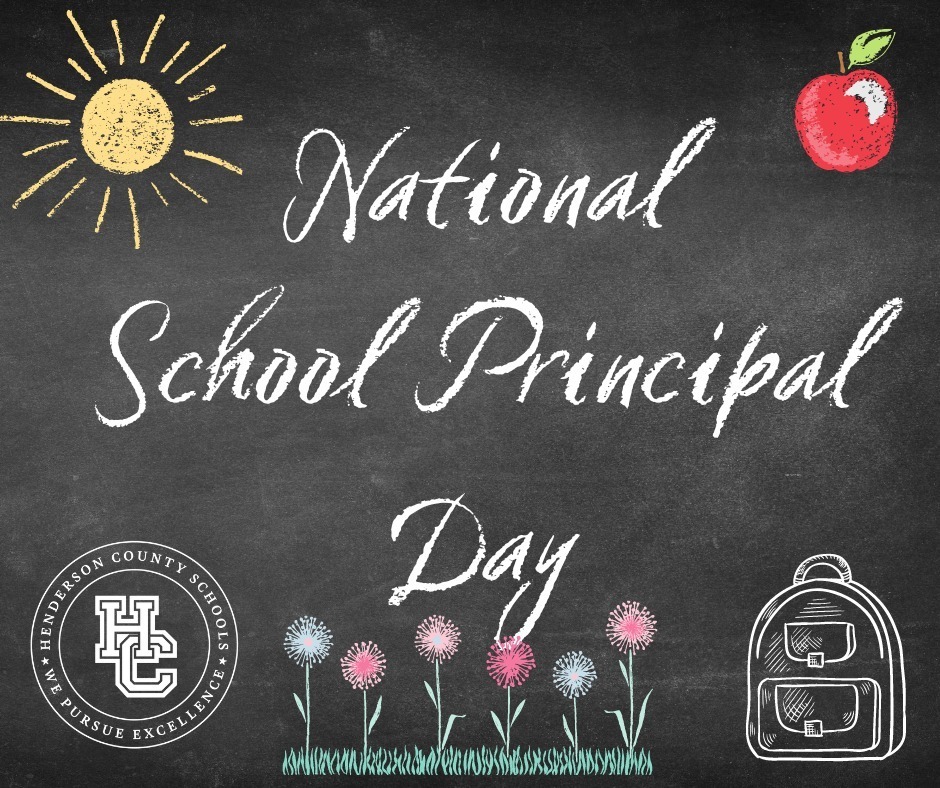 Happy Administrative Professionals Day! Thank you for all that you do for our staff, students, and families. We appreciate you!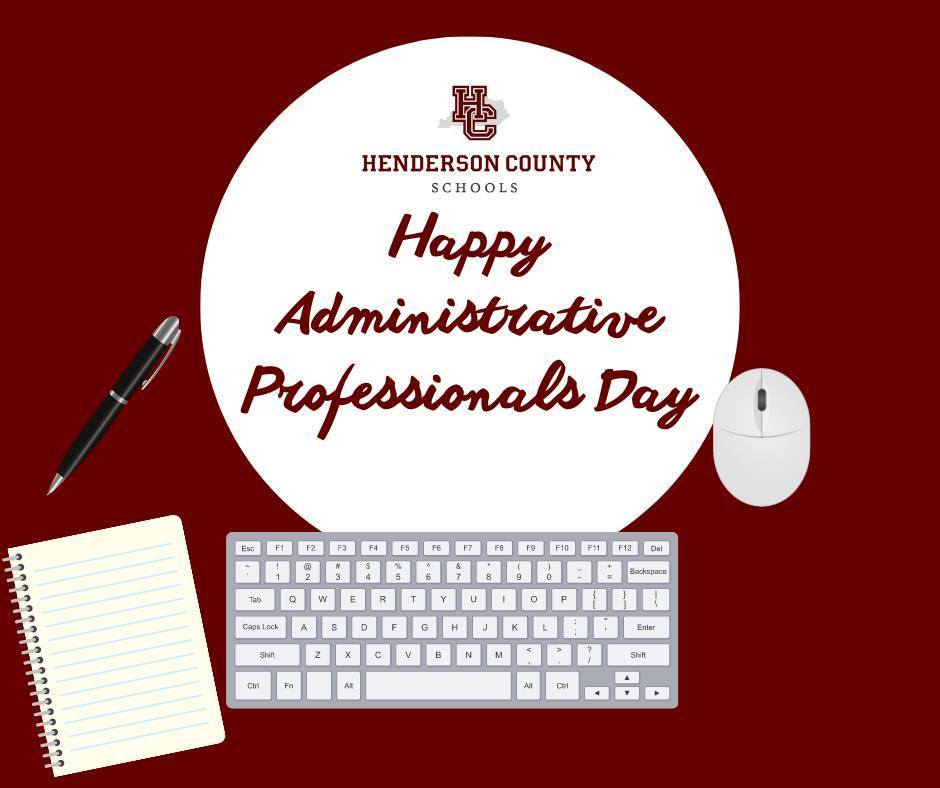 Our CTE Welding and Construction Students competed at the state level for Skills USA in Louisville this past week. Ethan Cole, Harrison Shaw, and Caleb Gorrell won 1st place in the Welding/Fabrication Competition! Ryan Larcomb won 1st place in Technical Math! We are so proud of all of their dedication and commitment to Skills USA. It definitely paid off! GO, COLONELS! These students will be competing at Nationals in Atlanta, Georgia in June.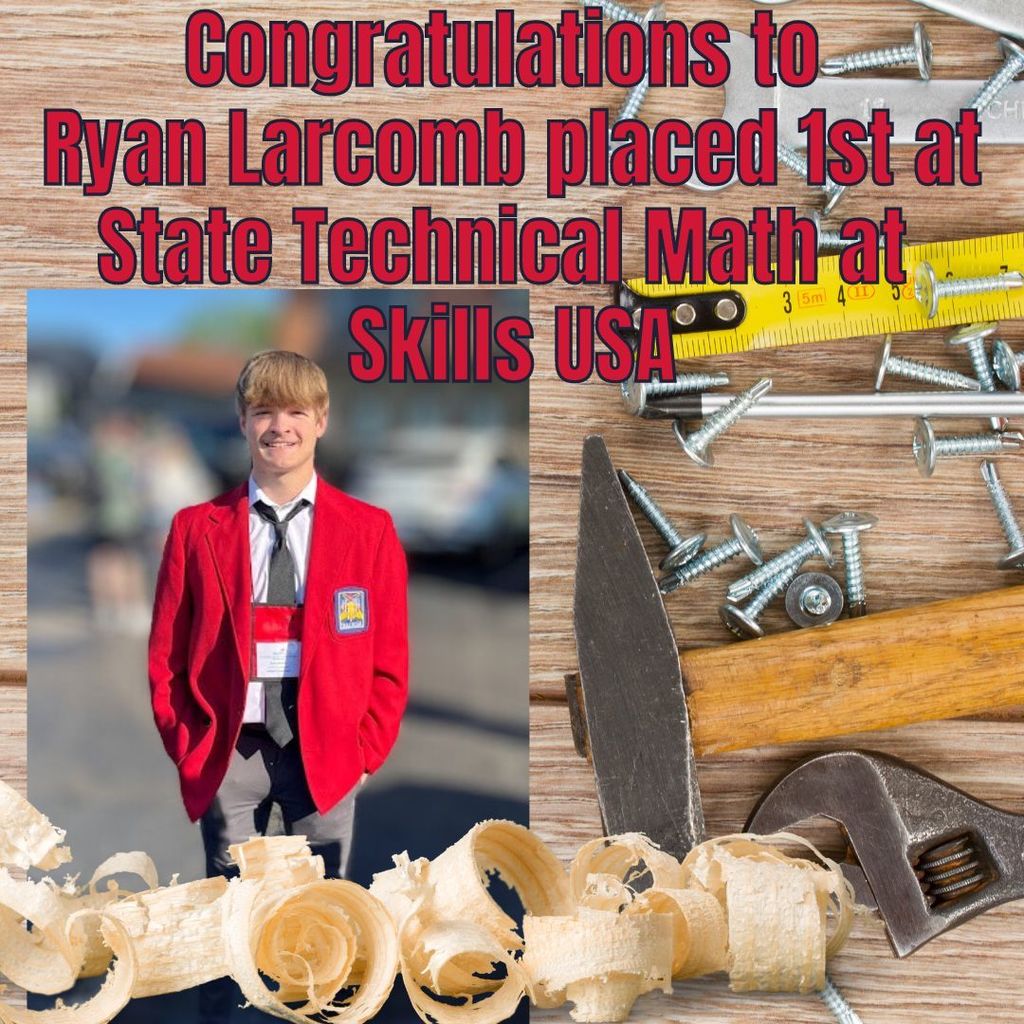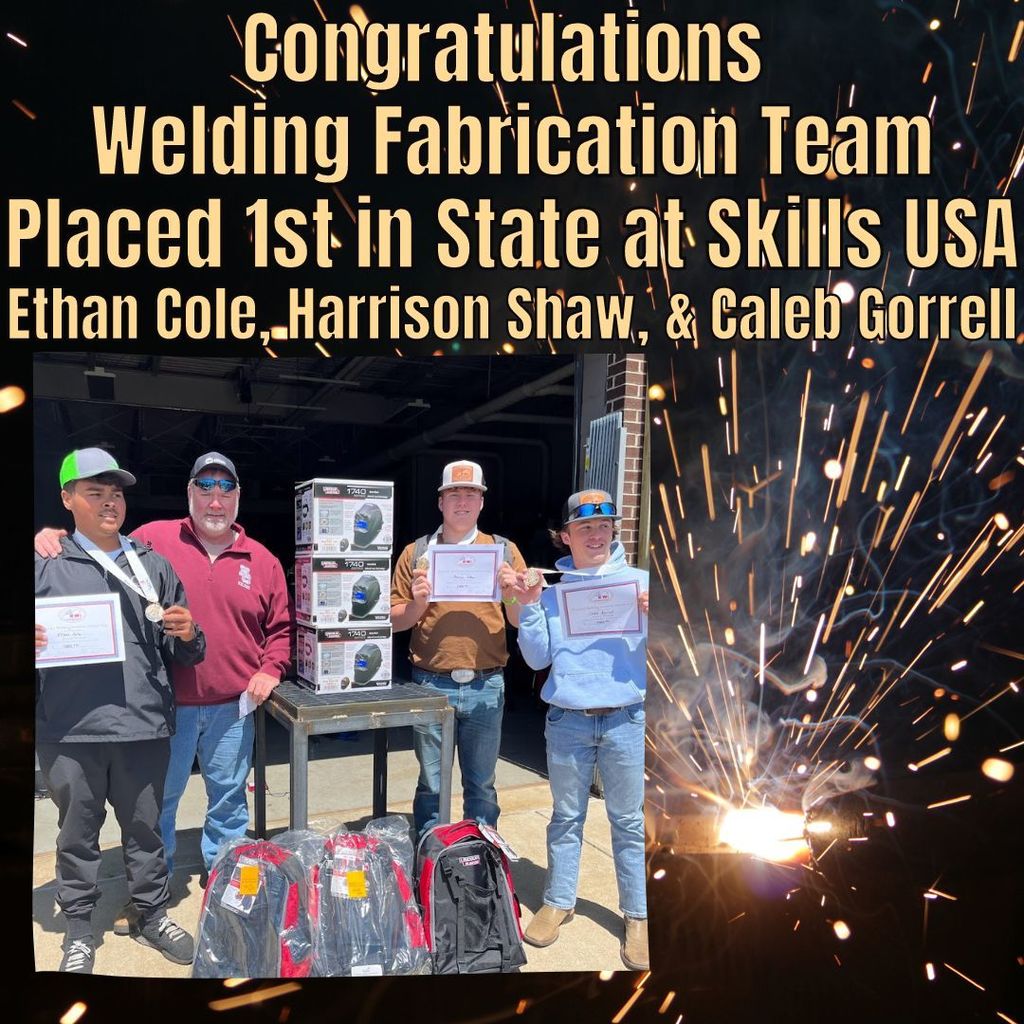 We want to wish the Jefferson Elementary School and the Henderson County High School STLP teams the best of luck today at the state Student Technology Leadership Program (STLP) competition in Lexington.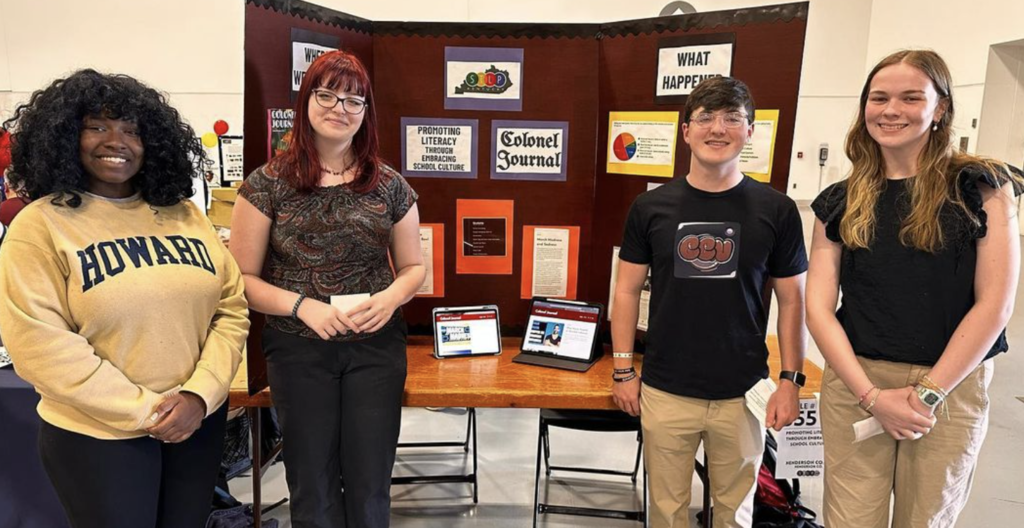 A Huge Thank You to all of our school volunteers! Thank you to our volunteer coaches, classroom volunteers, PTA members, field trip volunteers, and all of the volunteers that make a difference every day in our schools. WE APPRECIATE YOU!